Welcome back to CAS-ual Fridays, The Clean And Simple Challenge!

What a week! If you followed the announcements on our facebook page, then you know I had a terrible time narrowing down the huge list of awesome designers, and I decided to send out 7 invitations instead of 5.
Then there was that special Monday announcement where another 5 invitations went out!
If you haven't 'liked' us on facebook yet, please do. It's about to get super exciting over there!
Would you like to know who made the team??? I'll tell ya right after we talk challenge :)


Please say hello to our fantastic sponsor!
My name is
Lisa Hjulberg
and I'm the owner of
The Craft's Meow
. Opening this store is a dream come true for me... I'm following Henry David Thoreau's advice to
Go confidently in the direction of your dreams. Live the life you have imagined.
I've imagined this for a very long time! We offer an array of stamps and paper crafting kits with coordinating bits and bobs that will make your paper crafting easier and more fun! We will also offer from time to time limited edition grab bags where everything old becomes new again! And this is just the beginning... I hope you'll stay with me for more delectable things to come!
This week's winner will get to choose the in-stock stamp set of their choice!
I'm so excited I can hardly stand it!! I've got to introduce you to the team!
It's quite the international crew hailing from 6 countries!
This team has loads of serious talent and all kinds of experience levels, including 3 designers who have never been on a team before!
I'm sure you'll be delighted to know that some of the original Girl Fridays will continue to inspire you on a weekly basis. These amazing ladies have been with me since the beginning, and I'm so jazzed that they are staying!
Dana Seymour- US
Julie Day- Canada
Karolyn Loncon-US
Laurie Willison-US
Virginia Lu-Canada
Joining us in May is a super inspiring new group of designers. Not only are they uber talented, but they are also some of the sweetest and nicest people I've had the pleasure of 'meeting.' I just know you will love them!
Debby Hughes-UK
Christina MacLaren-US
Lorena Canto-Spain
Jenny Mullens-UK
Gayatri Murali-Australia
Lynn Mangan-US
and making her design team debut:
Kimberly Lane-US
But wait! There's more!
Determined to keep at least a few more fabulous designers from my list, I came up with a concept that will bring you even more CAS-ual inspiration on a daily basis.
Allow me to introduce a brand new style of Girl Friday-the facebook team!
These Girl Fridays will be posting additional inspiration throughout the week that will be featured on our CAS-ual Fridays facebook page.
We're making every day of the week a CAS-ual Friday! Be sure to 'like' our facebook page so you can get your daily dose of new inspiration!
Uh-oh, not on facebook and don't want to miss out? Not to worry, they'll be posting on their blogs too.
They will knock your socks off with their mad design skills, and delight you with their wonderful personalities.
Please welcome
Angie Tieman-US
Stephanie Washburn-US
Suzanne Dahlberg-US
and also making their design team debuts:
Lisa Addesa-US
Deb Wabbe
-
US
Wow! What a team!!
They are all crazy excited about getting to spill their beans tonight and
I know they'd love to hear from you, so please visit their blogs and share in their excitement.
Their first post won't be until May 4th, but they are already working on their creations and you will be dazzled!
There are still more surprises to come as we approach CAS-ual Fridays' first birthday.
Should I hint about it on facebook?? *grin*
And now its time for our inspiration parade featuring stamps from our fabulous sponsor The Crafts Meow!
Jaclyn Miller
The Girl Fridays love hearing from you! Please leave them some love for their inspiring examples.
We're looking forward to seeing your creations too!
*Create a new Clean And Simple project using this week's challenge theme*
*Gotta have a link to CAS-ual Fridays in your post*
***No more than 4 total combined challenges***
**Deadline: 11:59 pm EST on Wednesday!**
And now...*insert drumroll*... for our winners!
Well done!
You all will be featured on our VIP blog roll
and you may proudly display this badge on your blog!
*html code available on the VIP Club tab above*
The T.G.I.F Club Winner!
Nina Yang
Not only will you be our guest designer in May, but you've also just won the CAS-tacular prize from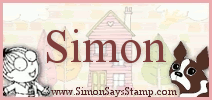 You may proudly display this badge announcing that your card is in our perpetual
Please email Michele at cas-ualfridays@hotmail.com
with your contact info to receive your prize!